Plastic Injection Molded Components Made Faster, More Consistently And With Less Handling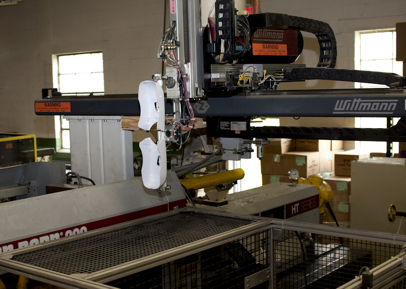 Over the last ten years, B & B Molded Products, Inc. has been consistently adding robotics to a number of our presses. The state-of-the-art robots guarantee the consistent cycle times of our machines, and enable us to be more competitive in labor utilization. We have grown our automation and robotics efforts to include:
On site automation services including repair, reconfiguration, re-tooling and programming
Ability to use both our standard robotics assembly or create custom robotics configurations
Provide "spot" automation as support for our cellular manufacturing approaches
By employing the latest automation technology to improve product quality, consistency, and repeatability, we are able to support our in-house quality processes and objectives more fully. In many cases, our automated production eliminates unnecessary machine loading, material handling and hand assembly saving our customers time and cost. Our robotics/automation inventory many types of standard and customized automation components such as end of arm tooling, automation and fixuring to support part and Insert loading as well as part removal, transport and packaging. This makes our plastic injection molded components process more cost effective, consistent and competitive.