Making Custom Molding Quickly, Flawlessly and With Less Cost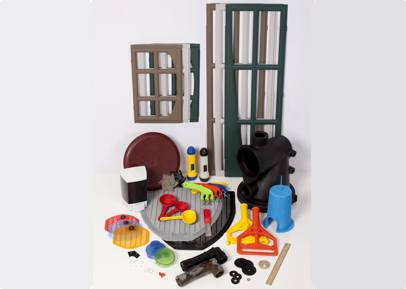 B&B Molded Products combines people, equipment, skill, efficiency, investment and continuous improvement to deliver one of the highest value custom molding operations in the region. The focus is on mating the level of precision to the job, which can range in units from hundreds to millions with part weights up to eight pounds. We can work with tooling ranging from simple single cavity, to multi-cavity production that combines different types of plastics, inserts, colors and downstream processes. How we achieve this is by recruiting, training and supporting the best team possible with highly maintained production machinery, mold tooling, consistent quality resins, exacting quality management and an array of other support capabilities. Our focus is on continually increasing our internal efficiency to provide additional value to our customers.
From using more effective processes employing our hot runner systems to working with manufacturers on incorporating disparate materials into their products, our mantra is providing more for less cost. Our weapons in this battle are many. Starting with sophisticated automated presses at our process core, adding complete manufacturing and product design support, integrating quality management into every process that is in turn supported with a training and development program.
The result: A full service injection molding capability set which spans the range of extremely tight tolerance, high temperature, high strength, high impact, chemical and environmentally resistant injection molded parts to finished assembly products.