Injection Molding, How To Make A Consistently High Quality Part Each Time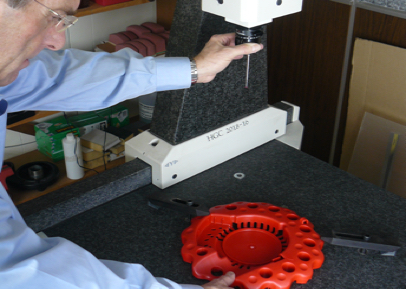 B & B Molded Products is certified under ISO 9001:2015, which means we have instituted the policies and procedures in our quality management system (QMS) that can satisfy the rigorous requirements of the International Standards Organization (ISO) for maintaining current quality management best practices. (You can download a copy of our certification by clicking here.)
In practice, a QMS is a set of policies, processes and procedures that support the execution of the main type of services in a way that meets customer expectations and requirements. We have created our quality program not only with these ISO standards in mind, but also in a way that helps us monitor and improve our quality processes and procedures on a continuous basis specifically for our injection molding customer's needs. This includes incorporating both in-process and in-field performance data from our customers to improve our approach.
B & B Molded Products knows that customer service and responsiveness is one of our key differences in the often crowded injection molding supply market. So we have taken the opportunity to use our QMS as a key business strength and integrate it into all of our processes and procedures.
In effect, we recognize the need to:

Understand all external guidelines and needs that our products and services may have to satisfy, including things like our "customer's customer" experience, legal and compliance issues our customers may face and the reputation of our customer
Create and maintain the appropriate documentation to support our QMS
Ensure that all employees understand and support our QMS as part of their daily contributions
Tie quality to our employee performance reviews
Provide a means for correcting problems immediately and improving our systems to correct any misalignments or compliance issues
Keep records that support our ongoing performance which are shared with all concerned
Audit our systems and ensure that what they are producing matches our internal goals and that of our customers
Create a deeper understanding of Injection molding, how to be more effective at it, and how we integrate our quality processes into it
Rather than being a burden, our involvement in quality management is a cornerstone of not only how we operate, but how we treat one another and the value we show to everyone in our organization.