Our Continual Reinvestment In Injection Molding Resources Increases Our Value To You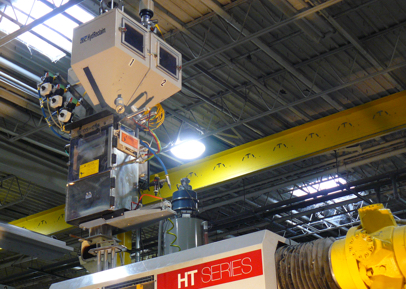 B & B Molded Products, Inc. has a newly renovated facility that occupies 55,000 square feet of manufacturing space and 45,000 of warehouse space in Defiance, Ohio. Our facility gives us space for large molding products, as well as any assembly work that may be required by our customers. B & B Molded Products, Inc. has the capabilities to handle any size job, with orders up to millions of units, with cost-effective efficiency.
We have a 100,000 square foot manufacturing facility and additional offsite storage.
Our presses are measured by tonnage, which demonstrates the amount of clamping force a press provides. We have presses ranging from 85 ton up to 650 ton. Our presses include:
| | | | | | | |
| --- | --- | --- | --- | --- | --- | --- |
| Press # | Make & Tonnage | Shot Size | Tie Bar Spacing | Min Mold Thickness | Max Mold Thickness | Platten Size |
| #1 | 170 Ton Van Dorn | 18 oz. | 20×20 | 6.00″ | 18.00″ | 29.1″x29.1″ |
| #2 | 170 Ton Van Dorn | 20 oz. | 20×20 | 6.00″ | 18.00″ | 29.1″x29.1″ |
| #3 | 120 Ton Van Dorn | 8 oz. | 17×17 | 6.00″ | 16.00″ | 25″x25″ |
| #4 | 230 Ton Van Dorn | 20 oz. | 22×22 | 7.00″ | 22.00″ | 32.3″x32.3″ |
| #5 | 85 Ton Van Dorn | 5 oz. | 16×13.6 | 4.00″ | 16.00″ | 22.8″x20.4″ |
| #6 | 300 Ton Van Dorn | 25.4 oz. | 25×25 | 8.00″ | 25.00″ | 37″x37″ |
| #7 | 85 Ton Van Dorn | 5 oz. | 16×13.6 | 4.00″ | 16.00″ | 22.8″x20.4″ |
| #8 | 427 Ton Haitian | 39 oz. | 28.74×28.74 | 11.02″ | 28.74″ | 40.79″x40.94″ |
| #9 | 230 Ton Van Dorn | 20 oz. | 22×22 | 7.00″ | 22.00″ | 32.3″x32.3″ |
| #10 | 350 Ton Arburg | 45.4 oz. | 28.35×28.35 | 11.80" | 55.11" | 40.94″x40.94″ |
| #11 | 300 Ton Van Dorn | 30 oz. | 25×25 | 8.00″ | 25.00″ | 37″x37″ |
| #12 | 500 Ton Van Dorn | 60 oz. | 32.5×32.5 | 10.00″ | 31.00″ | 47.8″x48.3″ |
| #13 | 300 Ton Van Dorn | 20 oz. | 25×25 | 8.00″ | 25.00″ | 37″x37″ |
| #14 | 170 Ton Van Dorn | 18 oz. | 20×20 | 6.00″ | 18.00″ | 29.1″x29.1″ |
| #15 | 400 Ton Van Dorn | 48 oz. | 28×28 | 8.00″ | 28.00″ | 42″x42.8″ |
| #16 | 230 Ton Van Dorn | 20 oz. | 22×22 | 7.00″ | 22.00″ | 32.3″x32.3″ |
| #17 | 85 Ton Van Dorn | 5 oz. | 16×13.6 | 4.00″ | 16.00″ | 22.8″x20.4″ |
| #18 | 230 Ton Van Dorn | 20 oz. | 22×22 | 7.00″ | 22.00″ | 32.3″x32.3″ |
| #19 | 120 Ton Van Dorn | 6 oz. | 17×17 | 6.00″ | 16.00″ | 25″x25″ |
| #20 | 120 Ton Van Dorn | 6 oz. | 17×17 | 6.00″ | 16.00″ | 25″x25″ |
| #21 | 400 Ton Van Dorn | 48 oz. | 28×28 | 8.00″ | 28.00″ | 42″x42.8″ |
| #22 | 500 Ton Van Dorn | 80 oz. | 32.5×32.5 | 10.00″ | 29.00″ | 47.8″x48.3″ |
| #23 | 400 Ton Van Dorn | 40 oz. | 25×25 | 8.00″ | 25.00″ | 37″x37″ |
| #24 | 170 Ton Van Dorn | 20 oz. | 20×20 | 6.00″ | 18.00″ | 29.1″x29.1″ |
| #25 | 500 Ton Van Dorn | 60 oz. | 32.5×32.5 | 10.00″ | 31.00″ | 47.8″x48.3″ |
| #26 | 650 Ton Van Dorn | 125 oz. | 36×36 | 12.00″ | 34.00″ | 53″x53″ |
| #27 | 500 Ton Van Dorn | 40.3 oz. | 32.5×32.5 | 10.00″ | 31.00″ | 47.8″x48.3″ |
| #28 | 400 Ton Van Dorn | 40 oz. | 28×28 | 8.00″ | 28.00″ | 42″x42.8″ |
| #29 | 300 Ton Van Dorn | 25 oz. | 25×25 | 8.00″ | 25.00″ | 37″x37″ |
| #30 | 85 Ton Van Dorn | 5 oz. | 16×13.6 | 4.00″ | 16.00″ | 22.8″x20.4″ |
| #31 | 500 Ton Van Dorn | 60 oz. | 32.5×32.5 | 10.00″ | 31.00″ | 47.8″x48.3″ |
| #32 | 550 Ton Arbug | 74 oz. | 36.20×36.20 | 20.00/11.80″ | 72.80″ | 52" x 52" |