Turning Injection Molded Components Into Subassemblies or Finished Products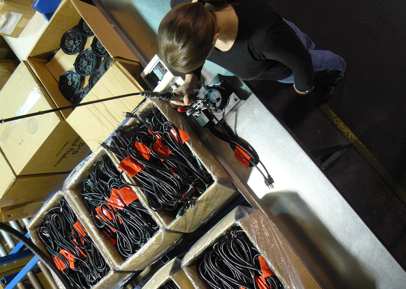 At the end of the manufacturing process, everything that has been designed, planned, procured and managed must work. With all of the complexity that these processes bring, it often makes sense to have fewer suppliers, each with more responsibility for the final product. We offer a range of services to help with injection molded components production simplification and cost reduction including:
Kitting or Pre-assembly, which can help gather the necessary parts together to help speed final production
Sub-assembly, which reduces the number of processes performed elsewhere and lowers costs of handling, lowers inventory costs and increases assembly speed
Final-assembly, including final packaging, testing and shipping directly to the customer
If you would like to compare the "total cost" reduction that can be achieved by our performing some of the assembly phases, our manufacturing engineers will help design and quote an assembly process to help lower costs while maintaining your specifications.
We can employ both automatic and semi-automatic approaches from molding through final packaging. Typically we examine two major parts of the assembly process for cost reductions:
Press Side
We examine your product molding sub-assemblies to see if there are actions being done on your product that we can accomplish during the injection molding cycle. Our goal is to automate as much of the process as we can to assure 100 % compliance to your quality standard.
Secondary Operations
We have a 5,000 square foot assembly facility where we can assemble product as a sub assembly, as well as finished product that is ready to ship to your customer. Our "downstream" capabilities include:
Sub-assembly of injection molded parts including stamped, welded or finished parts
Final assembly including varying production runs, configurations or end packaging
Parts Kitting into pre-assembly packages, configurations or staged items
Multi-part assembly of items made in our facility with those of another source
Custom testing including fully automated, semi-automated test routines in custom test fixtures
Packaging for final consumption or interim use including bulk packaging, individual item box or packed in a variety of packaging approaches such as shrink wrapping, clam shell, bagged, blister packs, etc.
Repacking, sorting, sequencing and inspecting of items that are to be used in the final assembly from other sources
Bar code labeling input into our factory Information system for material & data tracking
Instruction printing and packaging including variable printing (i.e. to accommodate multiple languages or product variations)