Need Injection Molding to Cleveland? See How Soon We Deliver.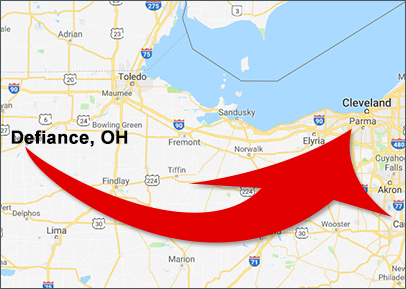 Cleveland is the county seat of Cuyahoga County, which is the most populous county in the state.
It sits on the southern border of Lake Erie, approximately 60 miles west of the Pennsylvania border.
Because of easy access to the ports of Lake Erie and numerous canals and railways, Cleveland has become a major manufacturing center. B&B delivers to all Cleveland townships including Bedford, Brecksville, Brooklyn, Dover, East Cleveland, Euclid, Independence, Mayfield, Middleburg, Newburgh, Orange, Parma, Riveredge, Rockport, Royalton, Solon, Strongsville, Warrensville and West Park.[GET A DETAILED NATIONAL INJECTION MOLDING COST COMPARISON HERE]
Speedier Injection Molding: Cleveland Delivery Routes
B&B's Defiance, Ohio location connects to ample transportation infrastructure for fast shipping to meet Cleveland's needs for injection molding.  Cleveland has well-developed highways for business traffic due to its ability to connect the Midwest to the Northeast.  B&B is conveniently located near the I-80/90, which offers a direct route to Cleveland.
Cleveland is approximately 150 miles east of our production facility and close enough for us to offer one-day delivery of products related to commercial and consumer injection molding. Cleveland companies can expect delivery within one day after production with our self-delivery service. Our proximity allows us to meet the needs of injection molding in Cleveland without hiring an outside truck company.
JIT Injection Molding in Cleveland
B&B Custom Molding serves its customers with Just-In-Time delivery, ensuring speedy shipments while helping companies manage their inventory efficiently and clearly identify their needs related to injection molding. Cleveland is located within our one-day replenish cycle for customers set up on our Just-In-Time Kanban delivery system. For example, a company pursuing injection molding in Cleveland might find it useful that B&B Molding can deliver both commercial and consumer products for lawn and garden or janitorial use, for example, on an hourly basis. This helps companies increase their inventory efficiency, reduce product obsolescence, identify production problems faster, build trust with suppliers, increase production flexibility and increase the overall product quality. We are experienced in Just-In-Time Kanban delivery and understand the challenges of expedited shipping as it relates to injection molding in Cleveland.
How B&B Custom Injection Molding in Cleveland Maximizes JIT Efficiency
B&B Custom Molding uses demand forecasting to anticipate the need for shipments by analyzing patterns of data from our clients to prebuild future orders. For example, a company may regularly order more garage door window frames during the spring and summer, coinciding with new trends in new home construction. We can begin the process of organizing a garage door window order based on past order data, thus expediting the delivery process and meeting customer demands more efficiently.Our vendor managed inventory agreement also helps us accurately predict the components necessary to make a customer's end product. We use customer-shared data systems to gain information on stock levels in both our customer's manufacturing facility or at the end customer's location. We can study product-ordering cycles to determine the optimum amount of finished stock to keep agreed upon supply levels. This results in our injection molding Cleveland customers being able to maximize the benefits of Just-In-Time delivery, lowering their inventory levels and increasing the return on their investments. In these ways we can uniquely and efficiently meet the delivery needs of companies seeking expertise in injection molding in Cleveland.