Fast Delivery of Injection Molding to Illinois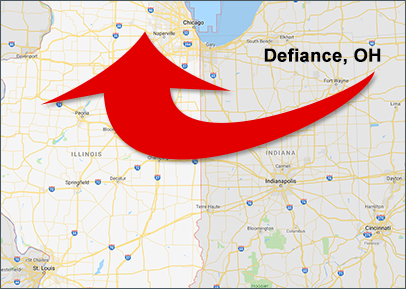 B&B Custom Molding is committed to meeting the injection molding needs of Illinois with fast delivery from their Defiance, Ohio location.
Illinois has a diverse economic base with successful agricultural production of corn, soybeans, hogs, cattle, wheat and dairy products, and several industrial factories utilizing injection molding. Illinois' Port of Chicago and O'Hare International Airport also make it a major transportation hub.
Illinois is a national manufacturing leader with industries including chemical and machinery manufacturing, food manufacturing, fabricated metal products, transportation equipment, electronics and plastics and metal, many of which rely on quality injection molding. Illinois has many locations within our one or two-day delivery zones.[GET A DETAILED NATIONAL INJECTION MOLDING COST COMPARISON HERE]
Speedier Injection Molding: Illinois Delivery Routes
Illinois has excellent transportation infrastructure for fast shipping to meet the state's needs for injection molding.  Illinois has well-developed highways for business traffic.  B&B's Midwest location has the benefit of reaching 70% of North America's manufacturing capacity in a one-day drive.  We can easily access all of the major manufacturing cities in Illinois, sitting less than 300 miles from Chicago, Peoria, Naperville, Elgin, Joliet and Aurora.
B&B is located near the I-80/90 toll road, which connects our facility to the major manufacturing cities of Illinois. We can also utilize other east-west highways including I-70 and I-74 as well as major north-south roads include I-57, I-55, and I-39 in the middle and eastern parts of the state. B&B can offer one or two-day delivery of products related to commercial and consumer injection molding. Illinois' eastern transportation routes make this possible.
JIT Injection Molding in Illinois
B&B Custom Molding's Just-In-Time delivery service guarantees speedy shipments while helping companies manage just the right inventory and more precisely target their needs related to injection molding. Illinois has many locations within our one and two-day replenish cycle for customers using our Just-In-Time Kanban delivery system. For example, a food manufacturer pursuing injection molding in Illinois might find it useful that B&B Molding can deliver on a daily basis. This helps manufacturers manage their inventory more efficiency, minimize product obsolescence, quickly identify production issues, openly communicate with suppliers, increase production possibilities and increase overall product quality. We can even offer short deliveries with our own truck to many Illinois cities on an as-needed basis without hiring an outside truck company. We are experienced in Just-In-Time Kanban delivery and are committed to offer expedited shipping as it relates to injection molding in Illinois.
How B&B Custom Injection Molding in Illinois Improves JIT Efficiency
B&B Custom Molding's demand forecasting capabilities allow us to anticipate shipment needs by analyzing data patterns from our clients to pre-build future orders. For example, a manufacturer may regularly order more water jet impellers during the spring and summer after routine equipment checks. We can begin the process of organizing a water jet impeller order based on past order data, thus expediting the delivery process and keeping our customers satisfied.Additionally, B&B's vendor managed inventory agreement helps accurately predict the components necessary to build a customer's order. With customer-shared data systems, we can discover information regarding current stock levels in both our customer's manufacturing facility or at the end customer's location. We can also study product-ordering cycles to ascertain the optimal amount of finished product to keep agreed upon inventory levels. This results in our injection molding Illinois customers being able to maximize the benefits of Just-In-Time delivery, lowering their inventory levels and increasing the return on their investments. In these ways we strive to efficiently meet the delivery needs of manufacturers seeking proficiency in injection molding in Illinois.