Speedy Delivery Zones for Injection Molding in Michigan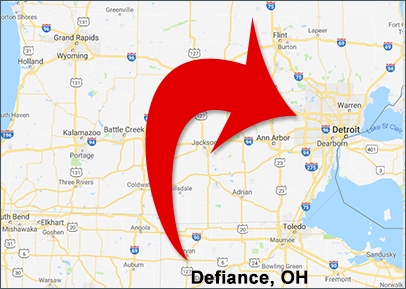 B&B Custom Molding is located near the Ohio/Michigan border in Defiance, Ohio, and is situated to serve the injection molding needs of Michigan.
Michigan is located in the Great Lakes Region of the United States, with the largest freshwater coastline of any political division in the world. Although Michigan has a diverse economy, it is largely known as the center of the automotive industry, with three leading automobile manufacturers located in Detroit. Michigan products and services also include information technology, aerospace, military equipment, furniture, and the mining of copper and iron ore, with diverse needs for injection molding.
Michigan also has many leading research institutions that create an educated and highly skilled workforce.[GET A DETAILED NATIONAL INJECTION MOLDING COST COMPARISON HERE]
Quicker Injection Molding: Michigan Delivery Routes
Napoleon's northwest location helps B&B offer fast shipping to meet Michigan's needs for injection molding.  Michigan has well-developed southern highways for business traffic from Ohio.  B&B's Napoleon location can easily access all of the major manufacturing cities in Michigan, sitting less than 200 miles from Ann Arbor, Kalamazoo, Lansing, Detroit and Grand Rapids.  The major east-west transportation routes connect B&B to Michigan's major manufacturing cities and include I-94 and I-96.
Additionally, other developed north-south roads aid speedy deliveries to Michigan's industrial cities including I-75, U.S. 23 and U.S. 127 in the east, I-69 in the middle, and U.S. 31, I-196 and U.S. 131 in the western part of the state. B&B is less than 20 miles from the I-80/90 toll road, which opens up available northbound transportation via most of these highways. B&B can offer one or two-day delivery of products related to commercial and consumer injection molding. Michigan's transportation routes poise B&B for this critical service.
JIT Injection Molding in Michigan
B&B Custom Molding works with customers to implement Just-In-Time delivery, ensuring speedy shipments while helping companies reduce inefficient inventory management by making transparent their needs related to injection molding. Michigan has many locations within our one-day replenish cycle for customers set up on our Just-In-Time Kanban delivery system. For example, a company pursuing injection molding in Michigan might find it useful that B&B Molding can deliver both commercial and consumer products for commercial door handles on an hourly basis. This helps companies increase their inventory efficiency, avoid product obsolescence, target production problems faster, build trusting relationships with suppliers, increase production flexibility and improve product quality. We can even offer short runs with our own truck to many Michigan cities. This means we can self-deliver on an as-needed basis without hiring an outside truck company. We are experienced in Just-In-Time Kanban delivery and understand the challenges of expedited shipping as it relates to injection molding in Michigan.
How B&B Custom Injection Molding in Michigan Maximizes JIT Efficiency
B&B Custom Molding also uses demand forecasting to anticipate the need for shipments by analyzing patterns of data from our Michigan clients to pre-build future orders. For example, a company may regularly order commercial sprinkler gears during the spring and summer. We can begin the process of organizing a sprinkler gear order based on past order data, thus accelerating the delivery process and more efficiently serving customer demands.
We can also predict components required to make a Michigan customer's end product using our vendor managed inventory agreement. This agreement allows us to use customer-shared data systems to learn about stock levels in both our Michigan customer's manufacturing facility or at the end customer's location. We can study product-ordering cycles to determine the optimum amount of finished stock to keep agreed upon inventory levels. This results in our injection molding Michigan customers being able to maximize the benefits of Just-In-Time delivery, lowering their stored supply levels and increasing the return on their investments. In these ways we can uniquely and efficiently meet the delivery needs of companies seeking expertise in injection molding in Michigan.