We Provide Two-Day Delivery for Injection Molding to Pennsylvania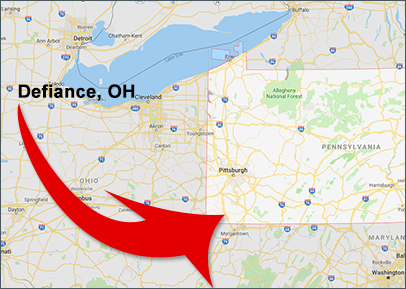 B&B Custom Molding's Ohio location permits speedy delivery of injection molding products to Pennsylvania.
The Keystone State is just east of us, with many manufacturing cities within our one or two-day delivery area.
Injection molding in Pennsylvania is required for the variety of manufacturing companies that make up its diverse economy, including U.S. Steel and GE Transportation Systems, which is the largest producer of train locomotives in the United States.
Faster Injection Molding: Pennsylvania Delivery Paths
Pennsylvania has the fifth largest state highway system in the United States, with sufficient transportation infrastructure for fast shipping to meet their needs for injection molding.  Pennsylvania has suitable highways for product traffic from B&B in Defiance, Ohio.   Our central location is able to reach 70% of North America's manufacturing capacity in a one-day drive.  We can serve all of the major manufacturing cities in Pennsylvania, sitting less than 300 miles from Pittsburgh and Erie.[GET A DETAILED NATIONAL INJECTION MOLDING COST COMPARISON HERE]
The major east-west transportation routes that connect B&B to Pennsylvania's manufacturing cities include I-90 in the north, I-80 in the middle part of the state and I-70 and I-76 in the south. The major north-south roads that facilitate speedy deliveries to Pennsylvania include I-79 and I-99. B&B can service many western Pennsylvania locations with one or two-day deliveries of products related to commercial and consumer injection molding. Pennsylvania's western transportation routes position B&B for this crucial service.
JIT Injection Molding in Pennsylvania
B&B Custom Molding's Just-In-Time delivery service promises speedy shipments while assisting companies in efficient inventory management and identifying their needs related to injection molding. Pennsylvania has many locations within our one-day replenish cycle for customers utilizing our Just-In-Time Kanban delivery system.
For example, a company pursuing injection molding in Pennsylvania might appreciate that B&B Molding can deliver parts for motorized cleaning vehicles on a daily basis. This consistency helps companies keep inventory levels low, reduces product obsolescence, reveals production obstacles faster, builds trust with manufacturers, increases production flexibility and increases the overall end product quality. We can even deliver products with our own truck to some Pennsylvania cities, fulfilling demand on an as-needed basis without hiring an outside truck company. We are proficient in Just-In-Time Kanban delivery and know the challenges of expedited shipping as it relates to injection molding in Pennsylvania.
How B&B Custom Injection Molding in Pennsylvania Maximizes JIT Efficiency
B&B Custom Molding uses a technique called demand forecasting to predict the need for product shipments by interpreting patterns of our clients' data to pre-build future orders. For example, a manufacturer may consistently order more gas combustion burner housings during the spring and summer, coinciding with trends in new home construction. We can begin the process of organizing a gas combustion burner housing order based on previous order data, thus quickening the delivery process and serving our Pennsylvania customers more efficiently.
Our vendor managed inventory agreement also helps us accurately predict the components necessary to make a Pennsylvania customer's end product. We use customer-shared data systems to interpret information regarding stock levels in both our customer's manufacturing facility or at the end customer's location. We can examine product-ordering cycles to determine the optimum amount of finished stock to keep the agreed upon inventory levels. This results in our injection molding Pennsylvania customers being able to maximize the benefits of Just-In-Time delivery, which means they can reduce unnecessary inventory, thereby increasing the return on their investments. In these ways we are committed to meeting the delivery needs of companies seeking skill in injection molding in Pennsylvania.